Intelligent Tourist Information System
Overview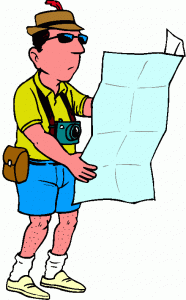 Nowadays, people love to travel as much as they can. But sometimes, their desire of travelling as much as they can, just lost somewhere in their dreams only because they don't have access to any guidance for that particular place and information related to it. This Intelligent Tourist Information System will help those people who love travelling or those even too, who wish to travel at some new place alone or without any prior information about that place.
This Intelligent Tourist Information System will inform about all the routes, as per the user's choice or the criteria user choose from the options. Also, estimation of time from reaching one place to another can be get through this application.
Existing System
In existing Intelligent Tourist Information System, the traveler should have to search a lot of websites or have to ask to people which they find in between their way, in order to get the knowledge of the routes or information about the particular place. Existing Intelligent Tourist Information System will take a lot of time and thus the traveler have to face even such a situation when they don't left any time and thus they have to limit themselves into only few places to visit.
Proposed System
In proposed Intelligent Tourist Information System, the user will have to activate the application in their mobile or devices they are using with an android operating system and then by filling up certain criteria's as per their requirements, they can get every relevant information related to the place they wish to visit, or they are travelling even now and then.The search mechanism and finding up of relevant path feature is the best, this intelligent tourist information application contains. Apart from this, the distance between two places, bus and railway information between them, the time that will be taken by travelling from one place to another are some of the other important information this application contains.
Intelligent Tourist Information System Modules
The modules for this intelligent tourist information system are:
1.) Admin Module: In this Intelligent Tourist Information System module, all the details is being update and add by the administrator in the given application for users. Admin can add new places whenever he wants. Also, admin can look at the all the profiles of the users too along with their email id and passwords.
2.) User Module: In this module, the user can add their accounts, can surf all the information about the places they wish to go, can use search and filter features and many more.
3.) Database Module: This Intelligent Tourist Information System module is the best and complex module of the intelligent tourist information system. In this module, all the data about the places and the user is being managed.
Technologies Used 
SQL Server

Android

SQL

Kivy

JAVA
Software Requirements 
Android

Windows XP/OS

Java JDK
Hardware Requirements 
Hard Disk – 2 GB.

RAM – 1 GB.

Processor – Dual Core or Above.

Mouse.

Keyboard.

Monitor.

Printer.
Download Project