Creating a PDF file using Java code
We will use the iText API for creating a pdf file using java code. Its a open source java API for creating pdf files, But if you are planning to use this iText API for commercial purpose you need to buy a licence for it. You can download this iText API from below link.
You can create pdf documents, XML files, HTML as well as RTF documents using this API. Lots of customization are there in this iText API which allows users create paragraphs, applying different fonts, adding images to pdf files, adding watermarks to pdf documents etc.
Steps to be followed for creating a PDF Document
Create a document using com.itextpdf.text.Document class of iText API.

Now create a PdfWriter using com.itextpdf.text.pdf.PdfWriter.

Open the document and start writing text to it.

After writing content to it, close the document as well as writer.
Below is the Snapshots for Application using Java swings: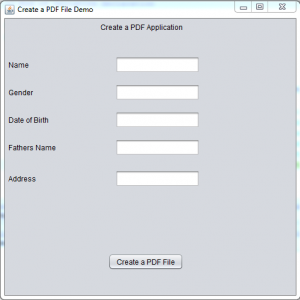 Here user will enter the details on the UI form of member application. We have one button also which will be used to create pdf file in the location we have provided.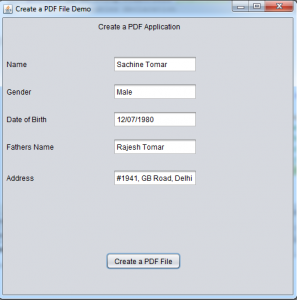 In this snapshots you can see the user has entered all the details. [Note] We are considering date field as the string only.
---
Now moving on to source code of this small application:
Creating PDF file using Java code
1

2

3

4

5

6

7

8

9

10

11

12

13

14

15

16

17

18

19

20

21

22

23

24

25

26

27

28

29

30

31

32

33

34

35

36

37

38

39

40

41

42

43

44

45

46

47

48

49

50

51

52

53

54

55

56

57

58

59

60

61

62

63

64

65

66

67

68

69

70

71

72

73

74

75

76

77

78

79

80

81

82

83

84

85

86

87

88

89

90

91

92

93

94

95

96

97

98

99

100

101

102

103

104

105

106

107

108

109

110

111

112

113

114

115

116

117

118

119

120

121

122

123

124

125

126

127

128

129

130

131

132

133

134

135

136

137

138

139

140

141

142

143

144

145

146

147

148

149

150

151

152

153

154

155

156

157

158

159

160

161

162

163

164

165

166

167

168

169

170

171

172

173

174

175

176

177

178

179

180

181

182

183

184

185

186

187

188

189

190

191

192

193

194

195

196

197

198

199

200

201

202

203

204

205

206

207

208

209

210

211

212

* To change this license header, choose License Headers in Project Properties.

* To change this template file, choose Tools | Templates

* and open the template in the editor.

package

com

.

projectsgeek

;

import

com

.

itextpdf

.

text

.

Document

;

import

com

.

itextpdf

.

text

.

DocumentException

;

import

com

.

itextpdf

.

text

.

Paragraph

;

import

com

.

itextpdf

.

text

.

pdf

.

PdfWriter

;

import

java

.

awt

.

event

.

ActionEvent

;

import

java

.

awt

.

event

.

ActionListener

;

import

java

.

io

.

FileNotFoundException

;

import

java

.

io

.

FileOutputStream

;

public

class

MainWindow

extends

javax

.

swing

.

JFrame

implements

ActionListener

{

* Creates new form MainWindow

this

.

setTitle

(

"Create a PDF File Demo"

)

;

jButton1

.

addActionListener

(

this

)

;

* This method is called from within the constructor to initialize the form.

* WARNING: Do NOT modify this code. The content of this method is always

* regenerated by the Form Editor.

@SuppressWarnings

(

"unchecked"

)

// <editor-fold defaultstate="collapsed" desc="Generated Code">

private

void

initComponents

(

)

{

jLabel1

=

new

javax

.

swing

.

JLabel

(

)

;

jLabel2

=

new

javax

.

swing

.

JLabel

(

)

;

jTextField1

=

new

javax

.

swing

.

JTextField

(

)

;

jLabel3

=

new

javax

.

swing

.

JLabel

(

)

;

jTextField2

=

new

javax

.

swing

.

JTextField

(

)

;

jLabel4

=

new

javax

.

swing

.

JLabel

(

)

;

jTextField3

=

new

javax

.

swing

.

JTextField

(

)

;

jLabel5

=

new

javax

.

swing

.

JLabel

(

)

;

jTextField4

=

new

javax

.

swing

.

JTextField

(

)

;

jLabel6

=

new

javax

.

swing

.

JLabel

(

)

;

jTextField5

=

new

javax

.

swing

.

JTextField

(

)

;

jButton1

=

new

javax

.

swing

.

JButton

(

)

;

setDefaultCloseOperation

(

javax

.

swing

.

WindowConstants

.

EXIT_ON_CLOSE

)

;

setPreferredSize

(

new

java

.

awt

.

Dimension

(

500

,

500

)

)

;

jLabel2

.

setText

(

"Create a PDF Application"

)

;

jLabel3

.

setText

(

"Gender"

)

;

jLabel4

.

setText

(

"Date of Birth"

)

;

jLabel5

.

setText

(

"Fathers Name"

)

;

jLabel6

.

setText

(

"Address"

)

;

jButton1

.

setText

(

"Create a PDF File"

)

;

javax

.

swing

.

GroupLayout

layout

=

new

javax

.

swing

.

GroupLayout

(

getContentPane

(

)

)

;

getContentPane

(

)

.

setLayout

(

layout

)

;

layout

.

setHorizontalGroup

(

layout

.

createParallelGroup

(

javax

.

swing

.

GroupLayout

.

Alignment

.

LEADING

)

.

addGroup

(

layout

.

createSequentialGroup

(

)

.

addGroup

(

layout

.

createParallelGroup

(

javax

.

swing

.

GroupLayout

.

Alignment

.

LEADING

)

.

addGroup

(

layout

.

createSequentialGroup

(

)

.

addGroup

(

layout

.

createParallelGroup

(

javax

.

swing

.

GroupLayout

.

Alignment

.

LEADING

)

.

addComponent

(

jLabel6

,

javax

.

swing

.

GroupLayout

.

PREFERRED_SIZE

,

50

,

javax

.

swing

.

GroupLayout

.

PREFERRED_SIZE

)

.

addComponent

(

jLabel4

,

javax

.

swing

.

GroupLayout

.

PREFERRED_SIZE

,

70

,

javax

.

swing

.

GroupLayout

.

PREFERRED_SIZE

)

.

addComponent

(

jLabel1

,

javax

.

swing

.

GroupLayout

.

PREFERRED_SIZE

,

45

,

javax

.

swing

.

GroupLayout

.

PREFERRED_SIZE

)

)

.

addGroup

(

layout

.

createParallelGroup

(

javax

.

swing

.

GroupLayout

.

Alignment

.

LEADING

)

.

addComponent

(

jTextField1

,

javax

.

swing

.

GroupLayout

.

PREFERRED_SIZE

,

140

,

javax

.

swing

.

GroupLayout

.

PREFERRED_SIZE

)

.

addGroup

(

layout

.

createParallelGroup

(

javax

.

swing

.

GroupLayout

.

Alignment

.

LEADING

,

false

)

.

addComponent

(

jTextField2

,

javax

.

swing

.

GroupLayout

.

DEFAULT_SIZE

,

140

,

Short

.

MAX_VALUE

)

.

addComponent

(

jTextField3

)

.

addComponent

(

jTextField4

)

.

addComponent

(

jTextField5

)

)

)

.

addContainerGap

(

javax

.

swing

.

GroupLayout

.

DEFAULT_SIZE

,

Short

.

MAX_VALUE

)

)

.

addGroup

(

javax

.

swing

.

GroupLayout

.

Alignment

.

TRAILING

,

layout

.

createSequentialGroup

(

)

.

addGap

(

0

,

250

,

Short

.

MAX_VALUE

)

.

addGroup

(

layout

.

createParallelGroup

(

javax

.

swing

.

GroupLayout

.

Alignment

.

LEADING

)

.

addGroup

(

javax

.

swing

.

GroupLayout

.

Alignment

.

TRAILING

,

layout

.

createSequentialGroup

(

)

.

addGroup

(

javax

.

swing

.

GroupLayout

.

Alignment

.

TRAILING

,

layout

.

createSequentialGroup

(

)

.

addComponent

(

jLabel2

,

javax

.

swing

.

GroupLayout

.

PREFERRED_SIZE

,

163

,

javax

.

swing

.

GroupLayout

.

PREFERRED_SIZE

)

.

addGap

(

162

,

162

,

162

)

)

)

)

)

)

layout

.

createParallelGroup

(

javax

.

swing

.

GroupLayout

.

Alignment

.

LEADING

)

.

addGroup

(

layout

.

createSequentialGroup

(

)

.

addGroup

(

layout

.

createParallelGroup

(

javax

.

swing

.

GroupLayout

.

Alignment

.

BASELINE

)

.

addComponent

(

jTextField1

,

javax

.

swing

.

GroupLayout

.

PREFERRED_SIZE

,

javax

.

swing

.

GroupLayout

.

DEFAULT_SIZE

,

javax

.

swing

.

GroupLayout

.

PREFERRED_SIZE

)

)

.

addGroup

(

layout

.

createParallelGroup

(

javax

.

swing

.

GroupLayout

.

Alignment

.

BASELINE

)

.

addComponent

(

jTextField2

,

javax

.

swing

.

GroupLayout

.

PREFERRED_SIZE

,

javax

.

swing

.

GroupLayout

.

DEFAULT_SIZE

,

javax

.

swing

.

GroupLayout

.

PREFERRED_SIZE

)

)

.

addGroup

(

layout

.

createParallelGroup

(

javax

.

swing

.

GroupLayout

.

Alignment

.

BASELINE

)

.

addComponent

(

jTextField3

,

javax

.

swing

.

GroupLayout

.

PREFERRED_SIZE

,

javax

.

swing

.

GroupLayout

.

DEFAULT_SIZE

,

javax

.

swing

.

GroupLayout

.

PREFERRED_SIZE

)

)

.

addGroup

(

layout

.

createParallelGroup

(

javax

.

swing

.

GroupLayout

.

Alignment

.

BASELINE

)

.

addComponent

(

jTextField4

,

javax

.

swing

.

GroupLayout

.

PREFERRED_SIZE

,

javax

.

swing

.

GroupLayout

.

DEFAULT_SIZE

,

javax

.

swing

.

GroupLayout

.

PREFERRED_SIZE

)

)

.

addGroup

(

layout

.

createParallelGroup

(

javax

.

swing

.

GroupLayout

.

Alignment

.

BASELINE

)

.

addComponent

(

jTextField5

,

javax

.

swing

.

GroupLayout

.

PREFERRED_SIZE

,

javax

.

swing

.

GroupLayout

.

DEFAULT_SIZE

,

javax

.

swing

.

GroupLayout

.

PREFERRED_SIZE

)

)

.

addPreferredGap

(

javax

.

swing

.

LayoutStyle

.

ComponentPlacement

.

RELATED

,

49

,

Short

.

MAX_VALUE

)

* @param args the command line arguments

public

static

void

main

(

String

args

[

]

)

{

/* Set the Nimbus look and feel */

//<editor-fold defaultstate="collapsed" desc=" Look and feel setting code (optional) ">

/* If Nimbus (introduced in Java SE 6) is not available, stay with the default look and feel.

* For details see http://download.oracle.com/javase/tutorial/uiswing/lookandfeel/plaf.html

for

(

javax

.

swing

.

UIManager

.

LookAndFeelInfo

info

:

javax

.

swing

.

UIManager

.

getInstalledLookAndFeels

(

)

)

{

if

(

"Nimbus"

.

equals

(

info

.

getName

(

)

)

)

{

javax

.

swing

.

UIManager

.

setLookAndFeel

(

info

.

getClassName

(

)

)

;

}

catch

(

ClassNotFoundException

ex

)

{

java

.

util

.

logging

.

Logger

.

getLogger

(

MainWindow

.

class

.

getName

(

)

)

.

log

(

java

.

util

.

logging

.

Level

.

SEVERE

,

null

,

ex

)

;

}

catch

(

InstantiationException

ex

)

{

java

.

util

.

logging

.

Logger

.

getLogger

(

MainWindow

.

class

.

getName

(

)

)

.

log

(

java

.

util

.

logging

.

Level

.

SEVERE

,

null

,

ex

)

;

}

catch

(

IllegalAccessException

ex

)

{

java

.

util

.

logging

.

Logger

.

getLogger

(

MainWindow

.

class

.

getName

(

)

)

.

log

(

java

.

util

.

logging

.

Level

.

SEVERE

,

null

,

ex

)

;

}

catch

(

javax

.

swing

.

UnsupportedLookAndFeelException

ex

)

{

java

.

util

.

logging

.

Logger

.

getLogger

(

MainWindow

.

class

.

getName

(

)

)

.

log

(

java

.

util

.

logging

.

Level

.

SEVERE

,

null

,

ex

)

;

/* Create and display the form */

java

.

awt

.

EventQueue

.

invokeLater

(

new

Runnable

(

)

{

new

MainWindow

(

)

.

setVisible

(

true

)

;

// Variables declaration - do not modify

private

javax

.

swing

.

JButton

jButton1

;

private

javax

.

swing

.

JLabel

jLabel1

;

private

javax

.

swing

.

JLabel

jLabel2

;

private

javax

.

swing

.

JLabel

jLabel3

;

private

javax

.

swing

.

JLabel

jLabel4

;

private

javax

.

swing

.

JLabel

jLabel5

;

private

javax

.

swing

.

JLabel

jLabel6

;

private

javax

.

swing

.

JTextField

jTextField1

;

private

javax

.

swing

.

JTextField

jTextField2

;

private

javax

.

swing

.

JTextField

jTextField3

;

private

javax

.

swing

.

JTextField

jTextField4

;

private

javax

.

swing

.

JTextField

jTextField5

;

// End of variables declaration

public

void

actionPerformed

(

ActionEvent

e

)

{

Document

document

=

new

Document

(

)

;

PdfWriter

writer

=

PdfWriter

.

getInstance

(

document

,

new

FileOutputStream

(

"d://MemberDetails.pdf"

)

)

;

document

.

add

(

new

Paragraph

(

"This is registration Page"

)

)

;

document

.

add

(

new

Paragraph

(

"Member Name:"

+

this

.

jTextField1

.

getText

(

)

)

)

;

document

.

add

(

new

Paragraph

(

"Member Gender:"

+

this

.

jTextField2

.

getText

(

)

)

)

;

document

.

add

(

new

Paragraph

(

"Member DOB:"

+

this

.

jTextField3

.

getText

(

)

)

)

;

document

.

add

(

new

Paragraph

(

"Member Fathers:"

+

this

.

jTextField4

.

getText

(

)

)

)

;

document

.

add

(

new

Paragraph

(

"Member Address:"

+

this

.

jTextField5

.

getText

(

)

)

)

;

}

catch

(

DocumentException

e2

)

}

catch

(

FileNotFoundException

e1

)
Download the Source Code
Creating a PDF file using Java Code