Deloitte Placement Papers and Selection Process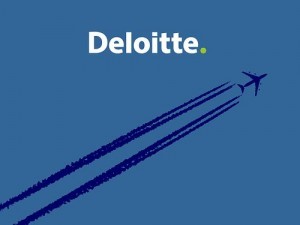 Deloitte Touche Tohmatsu Limited is basically refered as Deloitte. It is UK based private company. It was founded in the year 1845 in London, England. The founder of this organization is William Welch Deloitte. It's headquarter is at 30 Rockefeller Plaza, New York City, New York , U.S.A . Stephen Almond is the cahirman and Barry Saizberg is the CEO of Deloitte. It's present revenue is US$ 32.4 billion as per March 2103.Deloitte provides audit,consulting,financial advisory,risk management and tax services to the selected clients only. All these services provided by the different firms which comes under Deloitte.These firms are members of Deloitte Touche Tohmatsu Limited.Its main competitors in current business area are Pricewaterhousecoopers, Ernst and Young and KPMG.
Deloitte develops software's for following functional areas

Audit and Enterprise risk services.

Financial advisory services.

Heavy Engineering industries.

Consulting services.

Taxation.
Eligibility criteria for Deloitte and Deloitte Placement Papers

Candidates should have minimum of bachelor degree in any discipline with mathematics as one of the subject in bachelor degree course as well as in Inter.

Candidates should have a minimum of 60% marks in their current academic programer.

Candidates should not have more then 2 backlogs in current academic programme.
Deloitte Salary for Freshers

Selected candidates will get an annual salary of Rs 3.8 lakhs.

During internship of 6 months selected candidates will get Rs 12,000 per month.
There will be service bond of minimum 2 year and due to any reason if you do not able to work for this minimum period you will have to pay Rs 2.00 lakhs for taking your submitted degree and no objection certificate from the company.
There will be two types of internship provided to selected candidates based on their educational qualification.They will work as a following person as per category :-
Undergraduate candidates

Post Graduate candidates

Actuarial, Risk and Analytic.

Enterprise Risk Services.

Functional Consulting.

Strategy and Operations.
Deloitte Selection Process :- Selection process will be done in three stages and these are :
Written test.

Group Discussion.

Interview.
Written test details for Deloitte Placements

Written test will have two sections and each section will have 20 questions each.Total duration of the written exam will be 45 minutes.There will be No Negative marking and all questions are compulsory. It is suggested that you go through previous Deloitte Placement Papers before appearing.

Aptitude (Reasoning + Mathematics) – 20 questions.

English Vocabulary and Passage – 20 questions.
Group discussion will be non elimination round and all the selected candidates will have to appear in Group Discussion.For each group, maximum  discussion time allotted will be 15 minutes to judge your communication,personality and leadership. Download latest Deloitte Placement Papers from below this Post.

Interview section will include both personal interview and HR round.Candidates should prepare properly on technical section and mostly on SQL,DBMS and Java. From technical point of view they will asked questions from C language and Data structure.
 Download Deloitte Placement Papers