Airways Reservation System
Project Objective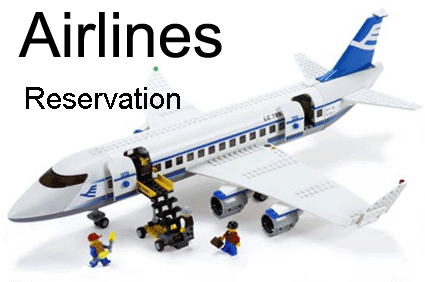 This software was build to provide assistance for the purpose of reserving tickets, or cancelling a reserved ticket, as well as rescheduling tickets. Since the information will be centralised so it can be easily updated in case of any changes to flight schedule. This minimises the need of help lines and customer support even at any locations. Thus it can help in minimizing the need for manual work.
            This system has been developed to help passengers in reserving their tickets online, access information about reserved passengers and passengers on waiting, cancel a booked ticket, and even reschedule a ticket. The main disadvantage of a manual system is eradicated in this software, i.e. the introduction of an error due to manual negligence.
Existing System
Manual systems are more prone to error. Hence many a times they are unreliable. In cases of any changes in the flight schedule or cancellation of any flight, if the changes are not reciprocated to the passengers on time it causes a lot of inconvenience and this affects the reliability of the airlines as well. Any discrepancy may cause a lot of chaos and trouble to the airlines as well as passengers.
Proposed System
The airways reservation system provides passengers with an online means of booking a flight ticket as well as cancellation of a previously booked ticket. A passenger can also reschedule a ticket as per convenience and look up if there are seats available in the questioned flight or not. The passengers can stay updated with the flight information. This provides a lot of ease to the passengers as well as the airlines.
Modules
Booking module:– This has two sub modules namely: Reservation and Cancellation.

Reservation: This modules lets a passenger to create a new passenger profile and book a ticket on an available flight.

Cancellation: This module allows the user to cancel a previously booked ticket.

Reports module:– This module has two sub-modules:

Confirmed Passenger List: This is a list of all the passengers, whose tickets are confirmed, i.e., the ticket has been successfully booked.

Waiting List: This is the list of the passengers whose tickets are yet to be confirmed for booking.
Software Requirements
Technology Used
Hardware Requirements
Hard Disk – 8 GB.

RAM required – 512 GB (minimum)

Mouse

Keyboard

Monitor
Download Project