Readers writers problem using Semaphore
Readers writers problem using Semaphore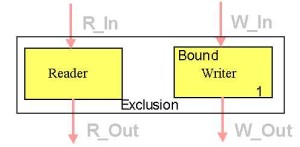 Readers writers problem in c is the Synchronization problem which can be solved by using this algorithm. This code is written to run on Linux or Unix machines. So for running this code you must have unix system with c compiler installed on it then only you can run these programs. The main reason that we require unix system is that we can only test reader writer problem on Unix system.
Readers writers problem is Mutual Exclusion and Synchronization problem which can solved by semaphores and monitors . Here is the Source Code for writer priority using C under reader and writer problem . Reader writer code can implemented in C on Linux .
We have declared two variables named as readcount and writecount which will count the read and write to control the synchronization problem. Only the read or write permission will be given based on these variables. So we can say that its a way in which the reader and writer problem should be handled. 
Reader Writer problem  using Reader Priority code can be found here .
Readers writers problem Code
1

2

3

4

5

6

7

8

9

10

11

12

13

14

15

16

17

18

19

20

21

22

23

24

25

26

27

28

29

30

31

32

33

34

35

36

37

38

39

40

41

42

43

44

45

46

47

48

49

50

51

52

53

54

55

56

57

58

59

60

61

62

63

64

65

66

67

68

69

70

71

72

73

74

75

76

77

78

79

80

81

82

83

84

85

86

87

88

89

90

91

92

93

94

95

96

pthread

_

t

r

,

w

,

r1

,

w1

,

r2

,

r3

,

w2

,

w3

;

pthread_create

(

&

r

,

NULL

,

reader

,

(

void

*

)

a

)

;

pthread_create

(

&

r1

,

NULL

,

reader

,

(

void

*

)

a

)

;

pthread_create

(

&

w

,

NULL

,

writer

,

(

void

*

)

b

)

;

pthread_create

(

&

w1

,

NULL

,

writer

,

(

void

*

)

b

)

;

pthread_create

(

&

r2

,

NULL

,

reader

,

(

void

*

)

a

)

;

pthread_create

(

&

w2

,

NULL

,

writer

,

(

void

*

)

b

)

;

pthread_create

(

&

r3

,

NULL

,

reader

,

(

void

*

)

a

)

;

pthread_create

(

&

w3

,

NULL

,

writer

,

(

void

*

)

b

)

;

printf

(

"main terminated\n"

)

;

void

*

reader

(

void

*

arg

)

printf

(

"\nreader %d is created"

,

c

)

;

printf

(

"\n\nreader %d is reading\n "

,

c

)

;

printf

(

"\nreader%d finished reading\n"

,

c

)

;

/

*

critical

section

completd

*

/

void

*

writer

(

void

*

arg

)

printf

(

"\nwriter %d is created"

,

c

)

;

printf

(

"\nwriter %d is writing\n"

,

c

)

;

printf

(

"\nwriter%d finished writing\n"

,

c

)

;
Download Readers writers problem using semaphore